Rooms and Prices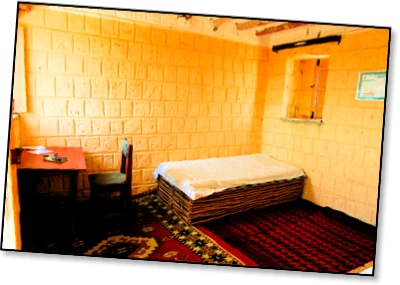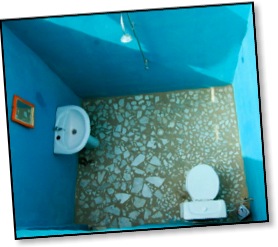 WE CAN'T OFFER YOU THE LUXURY OF A FIVE STAR HOTEL BUT WE CAN GIVE YOU THE LEISURE OF A 1001 STAR TERRACE!


We have several options: We are also very flexible and able to meet your needs for groups or special circumstances. Prices listed may vary, with reduced rates for the off season. You may be eligible for special group rates as well. Please contact us directly for an actual quote for your stay.

Room with Private W/C (12,000 / 10,000 f cfa)
These rooms contain two single beds, which may be joined to form a double bed. There is a table, chair, and waste basket. Attatched washroom includes shower, sink, and western style toilet.

Room with Shared W/C (10,000 / 7,500 f cfa)
These rooms contain two single beds, which may be joined to form a double bed. There is a table, chair, and waste basket. Washroom is shared.

Dormitory (5,000 f cfa per person)
This large room has has space for several people. The thick banco walls offer a cool place to relax during the heat of the day. This option is good for individuals looking a budget option or may be rented en toto by a group. The dormitory has an attatched completely plumbed washroom with western pedistal-style toilet, sink and shower.

Camping (3,000 f cfa per person)
For those on a very tight budget, or who just love the outdoors, there are mattresses available for sleeping on the roof; or you may pitch a tent on the roof or in the courtyard. For those travelling overland with a camping car, parking is also available, see below.

!!! Special Reduction for Volunteers!!!
Volunteers who have come to Africa are invited to take advantage of specially reduced prices: 2000 f cfa per night camping or 3000 f cfa per night in the dormitory. Volunteers are also offered reduction on the price of camel rides and nights in the desert. PLEASE LET US KNOW IF YOU ARE A VOLUNTEER UPON ARRIVAL OR WHEN YOU CONTACT US.

Day Use/Storing Baggage
For clients not lodging with us, but who are using our other services, such as arranging a trip in the desert, the public facilities are open for use free of charge. You may also securely store your belongings with us during your absence. Non-clients may use our facilities (shower, laundry, or a place to rest for the day) for a small fee.

Camping Car/Parking (2,500 f cfa)
For those visiters in private vehicles who wish the added security of parking inside our walls or who have a motorized camper: we have space for you. Our large gate opens wide to permit you to park inside the security of our walls or we have space outside if you prefer.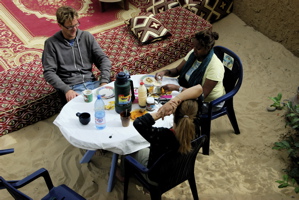 Breakfast (1,250 f cfa)

Breakfast consists of your choice of coffee or tea, with sugar and milk and fresh bread with jam or honey. You may request breakfast to be ready at any hour of the morning.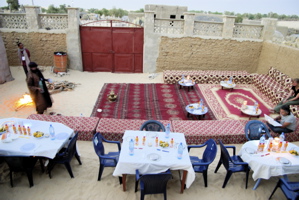 Other Meals

While staying with us you are welcome to prepare your own meals. We have the charcoal stoves, which you may use or your own camping equipment. If you wish to have a meal prepared for you, please inform us in advance (in the morning for a lunch and by mid-day for supper). To have all meals included in your stay add 3000 cfa per day. The La Paix restaurant, a couple blocks east of the Flamme de la Paix, is nearby. They have traditional meals at very reasonable prices. Or on special request we can do a meal for your group. Previous guests have stated that the meal they had with us was "the best meal we've had this whole trip, and one of the best meals of my life!"