Ziara Araouane


The true Sahara starts In Araouane. This circuit allows you to get out into the desert and see the great open spaces that are evoked by the name Sahara. You will pass beyond the shrub studded border of the Sahel and meet the great ergs that are so picturesque. The proposed trip is for five days in the desert, starting in Timbuktu.


Day 1: Arrival in Timbuktu
Welcome and installation in hotel. Relax and prepare for the trip. Depending on arrival time you can have the option of visiting the town's points of interest.

Day 2: Timbuktu - Araouane (225 km)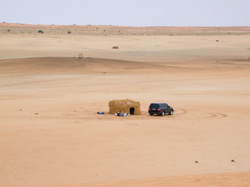 Heading north on the route of the salt caravan you will slowly leave the Sahel and its scrub bushes and thorn trees behind. The trip will be mostly loose soft sand and going is slow. All day travel with a mid-day rest stop and meal. This same route is taken by the caravans heading to Taoudeni there is a good possibility of encountering camels loaded with salt heading south or loaded with provisions heading north.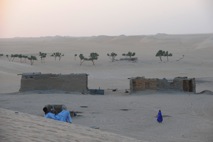 Day 3: Visit Araouane
Spend the day visiting this historic site founded well before Timbuktu. Once a major city and one of the few oases in what is now Mali, at its height it counted over a hundred wells. The expatriates from Araouane are now making an effort to restore the town and save it from encroaching sand which has filled all but a couple wells and buried many buildings. Visit the ruins of Alphahou, a second Araouane which has all but disappeared beneath the sand (7 km), the mosque and mausoleum of the saint Cheikh Sid'Ahmed Agadda (1570-1640), ancient mahadras. Night on the dunes.

Day 4: Araouane Boujbeha
(110 km)

Early Breakfast and start for Boujbeha arrive midday. Founded in the seventeenth century, the name of this location means the person with intelligence from the tamacheq Bou meaning father and djebeha meaning forehead that is the person who masters his mind. Visit of Boujbeha, another town losing the fight against the sand. Here rests
Cheikh Zeïni, One of the greatest saints and most scholarly men of his time and founder of the village. You can walk on the roof of the mosque without the aide of stairs. Night on the dunes.

Day 5: Return to Timbuktu
(250 km)
Early breakfast before heading south. Arrive evening. Installation in hotel, rest refresh before dinner.


Variations
: If you would like to make the trip more leisurely or spend more nights in the desert we can expand this trip to suit your preference. It is also possible to do the circuit in reverse going first to Boujbeha then Araouane.