Horse Treks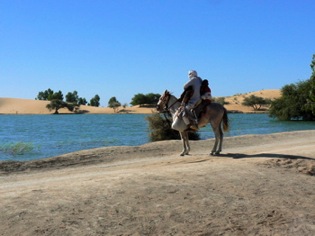 We are also offering the option of tours on horse back. We are working In collaboration with Debbie Logan an American woman who has extensive experience as a horse trainer and now lives in Botswana where she led horse safaris for over seven years. Debbie's experience with horses is combined with our knowledge of the desert to offer you a unique opportunity to explore riverside villages and desert camps on horseback. We will also be working closely with local horseman Oumar, regional champion of the 50th anniversary of independence horse races in Bamako in 2010. He loves his horses, treats them and trains them well.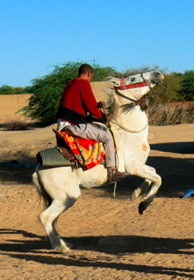 Horse back tours are intended for people who already know how to ride, however they are planned to be leasurly, fun and informative. Riding will not be intensive giving plenty of time to enjoy the scenery, interact with the locals and rest between rides. The group will move on horse back but a vehicle to transport baggage, horse feed and other essentials will preceed the group to campsites where suport personel will install tents or shade awnings and prepare meals etc.


Please contact Debbie directly at
maliride@yahoo.com
for dates etc if you are interested in joining a group for Horseback Tours also visit her blog
Mali Horseback Tours
,
for more information about horse riding in Mali or her website
http://www.africandesertcrafts.com
for general information about her activities.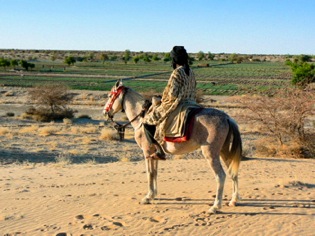 Sample Itinerary
Day 1
Arrival in Timbuktu, Installation in Sahara Passion, Orientation.


Day 2
Leave with Debbie and Oumar to Hagira. Support personal will have set up camp; lunch; rest; eveing leasurly outing on horseback return to camp and sleep


Day 3
Breakfast in Camp continue on horse back to Toya. Suport personel will have arrived and prepared lunch. Rest meet with local residents visit their village, gardens etc Evening outing on horse back to river.


Day 4
Breakfast in village, leasurly ride back to Timbuktu with mid-day pause in shade catered by support personel. Night at Sahara Passion


Day 5
Guided visit of the historic city of Timbuktu, night at Sahara Passion.


Day 6
Transfer to airport