Visit Mali (15 days)



Day 1: Arrival in Bamako
Bamako, site of the three crocodiles. Welcome at the airport, installation in hotel, contact with the guide and review of the program. Diner at the "Restaurant Libanaise". Night in Bamako at a hotel with A/C.

Day 2: Bamako - Ségou (235 km) - San (200 km)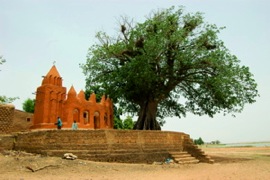 Breakfast at the hotel before departure. Leave Bamako for Ségou (3 hrs) with a visit to the ancient site of Ségou, the seat of the Bambara kingdom and an encounter with the giant balanzan trees in the land of 444 balanza. Lunch at Ségou, departure in the afternoon for San (3 hrs) passing through Bobo villages, Bla and others. Night in San.

Day 3: San -Djenné (250 km)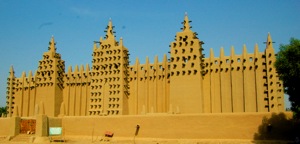 Breakfast in San, leave for Djenné (2 hrs). Visit the city of Djenné with her 13
th
century grand mosque, largest mud brick structure in the world, Named a World Heritage Site by UNESCO, and the site extraordinary market of hundreds of vendors spread out before the mosque. Lunch and dinner in Djenné at "Restaurant de la Place". Night in Djenné at "le Campement" Please note the weekly market day is Monday; depending on arrival day in Bamako we may not arrive here on Monday. Since it has become so well known, Monday is now over-crowded with tourists and touts for a more laid-back experience it is preferable to visit on a calmer day.

Day 4:
Djenné- Sangha (Dogon Country)
(230 km) Breakfast in Djenné. Depart for Sangha in Dogon country (3 hrs), land of 1001 gods and 1001 masks. The Dogon are different from any other race in the area, with a very particular religion, which many still practice, involving totem animals, protector spirits and ancestor worship. You will have a chance to see some of the abandoned sights of fetishes (where worship and sacrifices were performed). Out of respect to local customs we ask that visitors stay with a guide at all times so as not to risk desecrating sacred sites. The cliffs were formerly inhabited by a people known as the Telem, apparently pigmies, little is known about where they come from and where they disappeared to and how they managed to live in the tiny dwellings hundreds of meters up the cliff face, legends however abound. Sangha is a group of 10 villages, a mix of Muslims and animists who mange to peacefully coexist. Lunch at the hostel "le Dogon" dinner and night in Sangha or in Banani.


Day 5:
Dogon Country continued Breakfast in Sangha, Descend the cliff, on foot to visit the villages of Banani, Younga 1 and Younga 2. You will observe how industrious the Dogon are eking out millet plots in even the tiniest spaces among the rocks. They also cultivate large quantities of onions which liberally season all their meals. Lunch in one of the villages and return to Sangha for the night. There may be the possibility of witnessing a mask dance or animist ceremony. Events and any supplementary fees will be announced at that time. Day 6:
Dogon Country continued
Go to M'Borko, an animist Dogon Village. This village has a population of sacred caiman that come to the call of the village marabou. Witness this extraordinary phenomenon. These enormous crocodilian reptiles are quite calm and will allow you to approach them for a once in a lifetime photo opportunity. Night in M'borko.


Day 7:
M'Borko - Hombouri
(215 km)
Leave Dogon country for Hombouri (3 hrs), the Hand of Fatima, the highest mountain of Mali. Because of its legends surrounding Fatima, daughter of the prophet Mohamed, it is considered the Mecca of Mali. You will have the afternoon to explore an extraordinary countryside with is lunar landscape and world class climbing mountains, capital of the Songai Empire in the time of Soni Ali Ber, the great sorcerer. Night in Hombouri at the foot of the mountain of the Hand of Fatima.
Note: While some hiking can be done you must be certified and use proper rock-climbing equipment to try and scales these mountains. Equipment is available for rental near the base from a climbing expert. Those truly interested may spend their afternoon in this optional activity.


Day 8:
Hombouri - Timbuktu
(365 km)
Leave Hombouri for Timbuktu via Douenza and Bambara Moudie (5 1/2 hrs). Lunch Break in Bambara Moudie. Arrive at Timbuktu in the evening. Installation in the hotel Sahara Passion, dine on a traditional mishoui (whole roast sheep stuffed with couscous) traditional dance to Tuareg music. Spend night in Timbuktu.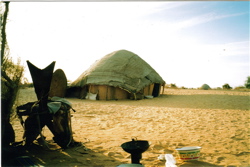 Day 9: Visit Timbuktu - Camel Trek to Tuareg Camp
(5 km)
Breakfast at the hotel. Guided visit of the city and historic sites of Timbuktu, explorers' homes, museum, library of ancient manuscripts, Djingere Ber and Sidi Yahya mosques, Sankore University, market, artisan centre. Lunch at the Poulet D'or. Optional visits to other libraries and museums (entry fees vary from 1.5 - 4 euro) Depart at 16h00 on camel back for a Tuareg camp 5 km from town, about an hour ride. Special Tuareg meal "toukasso" (steamed bread in a special sauce) Night in the desert camping under the stars and traditional stories around the campfire.


Day 10:
Excursion on the Niger River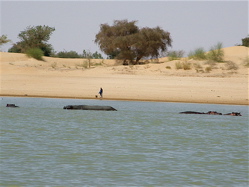 Breakfast in camp. Return at 9 a.m. to Timbuktu, showers and departure for Koriomé, port of Timbuktu. All day outing on the Niger River in a motor pinnace with crew. Head towards Bouriminali, and the isle of the hippos, with a stop in Bozo fishing village along the way. A local family of Hippopotami lives in this section of the river so the chances of spotting them are high. Enjoy the scenery, lush greenery and dunes that come down to the water's edge, the water birds, the cattle grazing in the grass covered sand bars and the variety of local river craft. Return in the late afternoon. Evening Free. Night in the hotel Sahara Passion.


Day 11:
Timbuktu - Mopti
(550 km)
After an early breakfast head to Mopti. Six hour drive. Lunch break in Douenza (4 hrs, 190 km from Timbuktu). Evening, enjoy a relaxing stroll by the Niger river. Dinner in Mopti at "le Bozo". Night in the "Hotel le Campement"


Day 12:
Mopti - San
(250 km)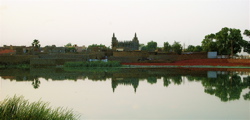 Visit the Venice of Mali, on the confluence of the Bani and Niger rivers, see boats being made, the market, the mosque, the mix of Bambara, Bozo, Dogon, Fulani, Songai, and even some Tuareg in this bustling port town. Afternoon Head to San.

Day 13:
San- Sikasso
(495 km)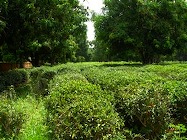 Continue to Sikasso, Mali's "bread basket" and capital of Kenedougou, the giant producer of "white gold"-cotton, Mali's biggest export. Visit the residences' of former kings and the remains of the of the city's protecting wall that slowed the colonialist's capture of the city. See the lush greenery of orchards and gardens that supply Mali with food.

Day 14:
Sikasso -Bamako
(375 km)
Return to Bamako four hours. On the way stop and visit the tomb of King Tieba. Installation in hotel. Free Afternoon.


Day 15:
Bamako, Departure Day

Breakfast at hotel. Visit of Bamako; museum, zoo, market, mosque, artisan centre, etc. Liberate the hotel rooms at 10 a.m. (a day room will be available for storing belongings) Evening Departure for Senou Airport.