Festival in the Desert


Established in 1999 with the idea of recreating the traditional annual gathering of the Tuareg, the festival has grown considerably since its conception. After relocating several times the festival in the desert started to put down roots in Essekane but in 2010 the site moved again this time near to Timbuktu. This gathering of local and international musicians for three nights of exceptional music is combined with the chance to encounter Tuaregs in all their indigo splendour, ride camels, purchase crafts from local artisans all in a lovely setting of rolling white dunes.


Day 1: Arrive in Bamako
Welcome at the airport, installation in hotel. Night in Bamako.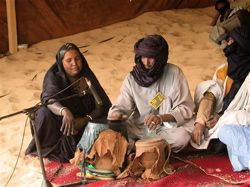 Day 2 Arrival in Timbuktu

Transfer to the airport. Arrive in legendary Timbuktu late morning. Installation in the hotel Sahara Passion. Guided visit of the town, its historic sites, homes of the first European explorers, museum, library of ancient manuscripts, Djingeré Ber and Sidi Yahya mosques, Sankore University, market, artisan house. Optional visits to other libraries and museums (additional fees between 1.5 and 4 euro)





Day 3: Departure for festival site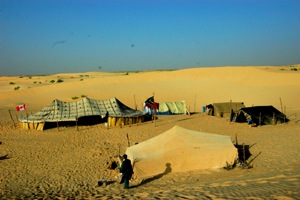 Late morning departure for festival site installation in the camp on the soft white dunes behind the festival grounds. The site is chosen especially for its distance to the festival which is conveniently close to participate in the activities but far enough away behind a dune to offer privacy and limit excessive noise for those who wish to sleep at night.



Day 4 Festival

Free to visit the festival as desired. 10 a.m. organized camel ride.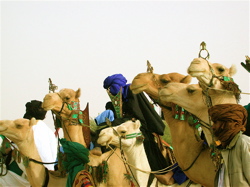 Day 5 Festival
Free to visit the festival as desired.


Day 6 Return to Timbuktu

Departure for Timbuktu. Return to Sahara Passion. Optional day on the river to see hippos (additional fee)


Day 7: Return to Bamako
Breakfast at hotel. Transfer to airport for return to Bamako. Visit Bamako museum, zoo, market, artisan centre. Night in Bamako.


Day 8 Departure Day

Free day. Evening transfer to Senou Airport.
Possible Variations:

We can
arrange the trip starting in Timbuktu leaving you free to find your own way to and from Timbuktu.

We can help you arrange other types of transport to and from the city such as pinnace on the river, and public or private ground transport.

You can incorporate the festival into a longer trip including visits to other parts of the country such as Ségou, Djenné, and Dogon Country.
Please note:
we keep our group small to ensure that we can control the quality of the services offered places are given on a first come first serve basis. Contact us in Advance to be assured of your place.


Also Note:
If you are making your own arrangements to come and go to the festival and wish to lodge with us prior to, just after or during the festival please make your reservations in advance as demand in high.